Sharan Sai Agiri joined IÉSEG's Grande Ecole program in 2017, after completing his Bachelor at Christ College in Bangalore.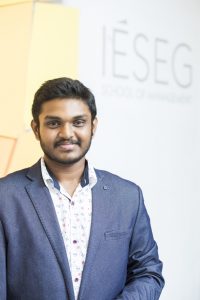 Passionate about entrepreneurship, he went on to win a 'Pitch Your Start Up" contest organized in 2018 by the Embassy of India in Paris in association with the Project X Group. His entrepreneurial project 'Nourritage ', which aims to provide authentic food at affordable prices, has recently joined the School's Incubator in Lille. We speak to him about his project and joining the Incubator.
Would it be possible to explain briefly why you decided to create Nourritage and the aims of the company?
I founded Nourritage with the objective to provide and deliver one of the best kinds of food experiences to people all over the Europe. 'Authentic' food experiences can be very expensive and sometimes hard to find. When I was a student, it was often hard to find, what I consider to be, authentic food at restaurants. The cost can also be hard on the pocket of millennials who already earn less from their limited work. So we thought it would be great if we could co-create something by ourselves. By customizing menus and meeting multiple providers, we have decided to set up Nourritage – a solution to provide/source authentic food at affordable prices.
Our aim is to give people a selection of different curated menus from which they can choose, with a wide variety of food and different types of cuisines available to the public at an affordable rate. We aim to provide access to healthy, cooked meals and make sure they are available to all those who crave for good food without breaking their budget. Our special targets are therefore students, employees and workers (with smaller or restricted budgets).
How have your studies at IÉSEG helped with the development of your entrepreneurial project?
My studies at IÉSEG have helped me really reach out to a lot of people who could give me resourceful insights. My subjects and courses here have given me relevant knowledge of understanding the problems involved in starting up a business and how at a young age we can tackle such problems. The educational experience at IÉSEG has added to our enthusiasm to start the business. The staff at IÉSEG has been very resourceful in shaping my thoughts and helping me refine my goals.
Why did you decide to join the incubator and how will it help with the next steps for Nourritage?
I had decided to join the Incubator when I learnt that we as a team at Nourritage need to push forward to make inroads in our market. We needed a platform to work on. We needed a home for our company. The Incubator has been a source of support for us, particularly in terms of resources and connections. Jacques, Abraham and Antoine (from IÉSEG) have been guiding me since day 1 to help me structure Nourritage.
As I'm very close to the School, I'm sure it will soon be receiving some quotations from me for different events! I really appreciate the way IÉSEG supports its students in one or the other forms and this helps us to move forward.